aftershock, soundclash, dazed and blog tv


This is the flyer for the next Dirty Canvas on Saturday 3rd February 2007. The night is being taken over by Stratford's Aftershock label home of producer Terrah Danger, Bruza and with many R'n'G affiliates like Sadie Ama, Gemma Fox and Sway. The label was very quiet in 2006, but is looking to become major players in the scene once more in 2007. Terrah in particular has scene his position as grime's top producer usurped by Ruff Sqwad's Rapid, so he has ground to make up. From what I've heard of his (and the label's) forthcoming 'shock to the system' album though, Terrah will indeed be making his mark again.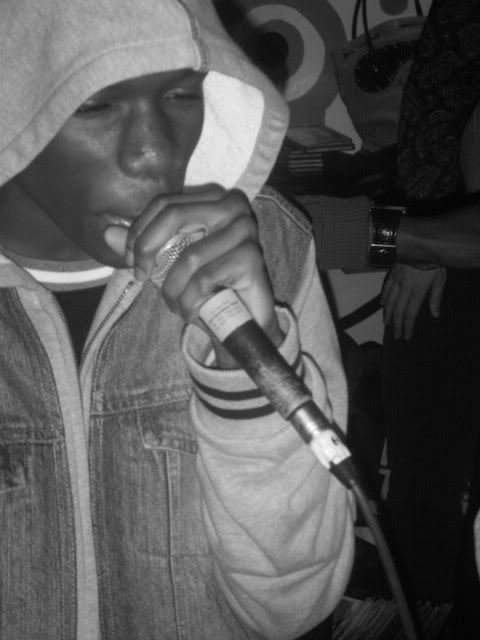 Last Saturday saw Dirty Canvas in a little soundclash with promoters 7 Year Glitch at a new venue in Soho. Though the whole thing had to finish at 12 midnight, we crammed in plenty of DJs and the final hour saw an energetic performance from Ruff Sqwad, a swinging set from Tempa T and some conscious bars from Purple and G Double.

Dan Hancox has penned a piece about grime's struggle to get a foothold in London's live circuit in Dazed and Confused…where I contribute with a couple of quotes.

The Eel Collective have also been busy. The Winter edition of the Eel is out, plus da Collective have put together an exhibition of album covers at the Art Vinyl shop on Broadway Market. Showing for the next couple of weeks, the album covers have been chosen as their favourite (albums and covers) by various local people, each with a current polaroid of themselves, a picture circa when they bought the album and a typewritten piece on the reasons for their choice. It's a great idea (nothing to do with me!) and works a treat.

Finally, we'll soon be talking about how blogging killed the tv star, with this new blog-on-the-tv site from Woebot, which is fantastic.